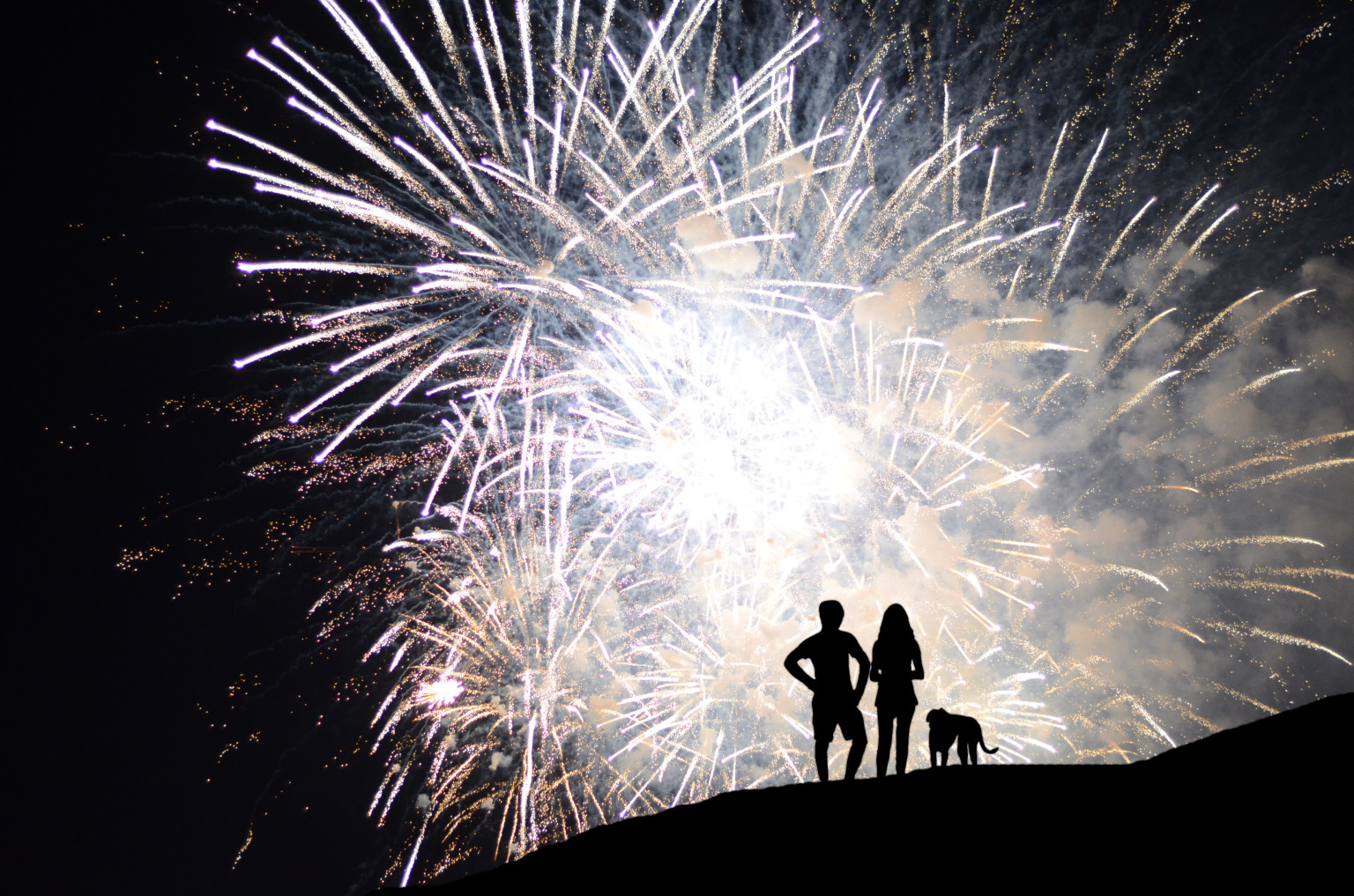 All dogs react differently to fireworks; some are oblivious to them (if this is your dog then you are lucky!)  whilst others become extremely distressed and upset. Barking, whimpering and running from different rooms are all signs that your dog is desperately trying to get away from the noise and is in distress.
As the use of fireworks seems to grow each year with more private shows in people's gardens as well as the public displays it's a good idea to look at ways you can help your dog around this time of year (and including other pets too such as cats and small furries!!)
 1) The Big One! – Keep pets indoors on Bonfire Night 
This might be obvious, but your pets will feel much safer in the comfort of your home. Making sure all your pets are indoors will help them to stay calmer, including any pets outside in hutches such as rabbits and guinea pigs.
It is also not advisable to take your dog along to firework displays as this is unnecessary and can be cruel due to their sensitive hearing, they are much better off in the security of their home.
2) Exercise 
It is a good idea to take your dog on an extra long and tiring walk before the fireworks start. This way they are feeling tired and less alert to pay too much attention (hopefully!) to the loud noises. If your dog becomes very excited by the sound of fireworks than this is a great tip for you to help drain their energy.
3) Firework-Proof Your Home
A good idea in your home is to create a firework-proof area. Bring your dog and his bed into the room the family are in or find a nice area such as a quiet room to lay out their comfy bedding if you are going out. You could either leave a radio playing or if your pets are in the same room as you, maybe turn your TV up louder than normal to drown out the noise.
It is very important you do not show affection if your pet is agitated and distressed (as hard as this can be when they are scared) this will only encourage the behaviour you are trying to stop. It is best to just get on with things like normal and not fuss over them until they are calm.
4) Plug In Vaporizers 
Another great idea for this time of year is to use, if you don't already, a plug-in vaporizer. There are a couple of options out there such as Pet Remedy or Adapil's plug-ins. These help de-stress and calm your dog. There are also cat versions available such as Feliway. If you have a variety of pets in your household, then Pet Remedy would be a good one to try as it is suitable for a range of animals such as dogs, cats, rodents and horses amongst other mammals. They are safe to use and are unnoticeable to the human nose!
5) Stay Calm 
Lastly, remember to stay calm when the fireworks start. If your dog sees's you going about your normal business whilst the noisy fireworks are going off it will help them to hopefully and eventually understand that nothing bad or scary is happening.
Hopefully, with a bit of planning and care, your pets can have a calmer time around Bonfire Night! 
Please Note – If you have a pet that suffers around this time of year do feel free to pop in or call your local Veterinary Practice to speak to a Veterinary Professional about ways to help your pet this year. Most Veterinary Practices stock their preferred plug-in vaporizers so you can purchase one on your trip to try.
Like and Follow us on Social Media 
Facebook Page – https://www.facebook.com/simplyvetsandnurses/
Twitter Account – https://twitter.com/SimplyVets
Linked In – https://www.linkedin.com/company/simply-vets-&-nurses